NOVA PINBALL

Copyleft 2015 Wesley Werner

Your mission: Make the star go nova. There are in-game hints that point out the next target to achieve your goal.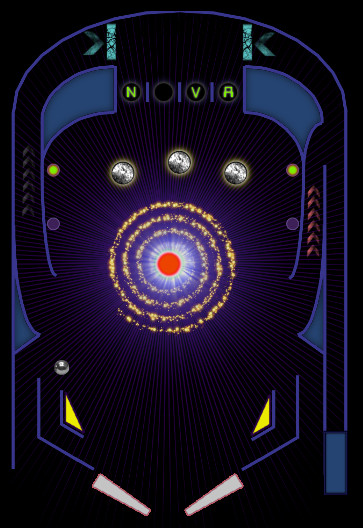 HOW TO PLAY
The UP, DOWN and SPACE keys navigate the menus.
The LEFT + RIGHT SHIFT keys control the flippers
The SPACE key launches the ball. It also nudges the table if a ball is in play.
If you nudge too much the table will tilt.
Your first ball starts in safe mode.
TABLE FEATURES
Mission hints are given during play, in the LED display, and as flashing light goals.
Safe Mode: A 30 second grace period where a free ball is launched on a drain.
Multi-ball: Complete the "Matter Jettison" mission to release the second bonus ball.
Tilt: You don't score points and the flippers won't move until a ball is drained.
GOOD TO KNOW
CREDITS

Thanks goes to these people for letting me use their work:
ENGINE

This game is created on top of the Nova Pinball Engine, also available under the same license.
LICENSE

This program is free software: you can redistribute it and/or modify it under the terms of the GNU General Public License as published by the Free Software Foundation, either version 3 of the License, or any later version.

This program is distributed in the hope that it will be useful, but WITHOUT ANY WARRANTY; without even the implied warranty of MERCHANTABILITY or FITNESS FOR A PARTICULAR PURPOSE. See the GNU General Public License for more details.

You should have received a copy of the GNU General Public License along with this program. If not, see http://www.gnu.org/licenses/.